​Talentor jumped over the Atlantic in the beginning of February when new partner Heinz Georg founded Talentor USA, Inc. in Baltimore, Maryland. European Companies to Profit from More than 25 Years of Intercultural Experience with Talentor USA.
Bridging the Gap Between Europe and the USA
As you might guess from his name, Heinz hails from Germany. He has lived in the state of Maryland since 1989. Heinz notes, "After working as a lawyer for several years, I joined the family business, a mechanical engineering and capital equipment manufacturer. We decided to build a factory in Maryland. Originally, I was going to be sent to the USA for a few months, then return to Germany. I met my wife, Sue, though, and that's why I'm still here 28 years later."

An Early Challenge: Developing a Greenfield Production Facility in Maryland
As the responsible person for a greenfield project (purchasing a 4 acre lot and setting up a production facility), Heinz faced a number a challenges. Despite all the cultural ties that bind the USA and Europe, there were and are a number of differences that make life difficult for European companies in America. These challenges made themselves noticeable in the recruiting process.
Heinz explains, "We were very surprised that the USA does not have a vocational education system like the dual system in German-speaking countries that combines schooling with apprenticeships. American companies are responsible for training their workers. I noticed quickly that work experience is a critical facture when looking for production workers in the US."
Big Differences to Bridge
After successfully developing the plant, Heinz knew that his future was in Maryland. Staying in America precluded a management role in the family business, so Heinz became a recruiter. His clients discovered quickly, that his expertise and experience made him an ideal partner for executive search. Heinz explains:
"There are big differences between communication and leadership styles in America and Western Europe. Many Americans struggle initially with the direct way that their German colleagues communicate." With a laugh, he adds, "Americans are often astounded that their German colleagues get so much done even though they constantly seem to be on vacation."
"When filling executive and management positions, looking beyond the professional qualifications to see if there is the right chemistry between candidate and company is critical. Candidates must be able to think internationally and be open to their European employer's different culture.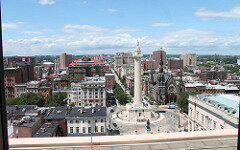 Political Instability and a Surprising Opportunity
Heinz confirms that the election of the new American President has resulted in uncertainty about the future.

However, one aspect cannot be overlooked: protectionist policies may lead to additional investments. That is because many European companies cannot or are unwilling to do without the American market. There is still a great deal of potential.
Baltimore: A Popular Tourist Destination and Culinary Hot Spot
Despite the political situation, Heinz is very enthusiastic about Baltimore, his home of choice. "Downtown and the Inner Harbor are gorgeous and have made Baltimore one of the top 5 tourist destinations in the US. We're close to Philadelphia and Washington D.C. Baltimore has a large number of fantastic restaurants and bars."
Despite his love for his hometown, Heinz is not a fan of Maryland Crabs and crab cakes, local specialties. His favorite: "Chicken Caesar salad – chicken on the side!" ample proof that Heinz has integrated well.

Talentor clients and partners profit from Heinz' expertise and extensive network even without visiting this delightful city. Get in touch if you are looking to fill executive and managerial positions in the USA. Talentor's team of consultants has extensive experience and local connections in every Talentor country. That is your guarantee for high quality cross-border projects.