The job ad is the first impression a job seeker gets of your company. With our 6 tips you will write job ads that inspire and invite candidates to apply.
6 Steps to the Perfect Job Advertisement
Bad news first: Most job postings are yawningly boring. Often these are text fossils dating from a time when candidates submitted their applications by fax. This "job advertisement" does little to inform candidates about the advertised position and to inspire them to join the company.
The good news is that it is relatively easy to stick out of this boring crowd. With the following 6 tips, you can quickly write job advertisements that inspire candidates to apply.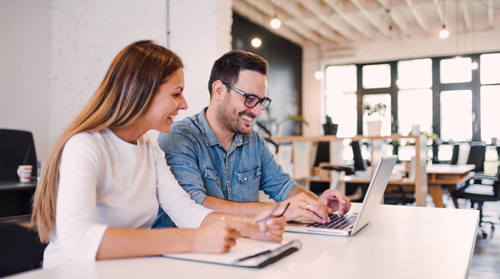 1. Know the Golden Rules of Writing
Work on the "KISS principle": Keep it short and simple. A job advertisement with all its components (employer description, requirements, position description, salary & benefits, application process) should not have more than 350 words. When all the empty phrases and the modal verbs (can, may, may, should, must, want are 90% unnecessary) have been deleted from the text, only the essentials remain.
The candidate should be in the foreground! Instead of "Our requirements", write "Your job profile" - that is much more likeable.
Swap abstract terms for verbs. Active voice makes your job advertisement appear fresh and dynamic. Compare "Leading a 12-member marketing team" to "You will lead a team of 12 talented marketing employees".
2. Paint a Vivid Picture of Your Corporate Culture
A good employee does not just choose a job advertisement. They choose the employer behind it. If you will win the candidate over with a good pitch. Nine out of ten candidates look for a cultural fit during the job search. Draw a vivid picture with details about your culture and personality and explain why candidates will love your company.
Example:
"Are you looking for a dynamic and diverse environment that will keep you interested? We are a family-run company in the field of ERP and can offer you just that - a complex technical environment, cooperation with numerous contact persons, and the prospect of building a small team."
3. Separate Must-Haves and Nice-to-Haves
Most job seekers read job ads on their mobile devices. Job advertisements are scanned within 10 seconds. Please do not pack all the possible requirements in the listing. Start with the 5 most important ones. For particularly difficult-to-fill positions, delineate these into must-haves and nice-to-haves. In addition: Social skills such as teamwork or communication skills go without saying and can be safely deleted.
Example:
Here you are right, if you ...
Have several years of experience in Java development
Mainly work with Spring
Can find your way around the Linux environment
4. The Scope of Functions as the Heart of the Job Advertisement
Do not mess up the scope of functions by writing a whole essay. The most important tasks - as meaningfully formulated bullet points and a preview of possible successes and achievements will make candidates sit up and take notice.
For example:
As a Junior Developer you will work together with external experts on innovative and new products. Customer satisfaction and the quality of the software are our top priority. You get a chance to get involved in modern technologies and take the lead on all frontend projects over time.
5. Communicate a Realistic Salary
In Austria, salary information in job advertisements is mandatory. But that is no reason to be satisfied with stating the minimum collective contractual salary. The 85% of candidates who are dissatisfied by their current salaries are mostly discouraged by that minimum. Communicate a realistic picture of the offer including the benefits. If you define a minimum and maximum limit, be sure to communicate this in the ad. Salary developments can also be included.
Example:
The actual salary ranges from EUR 2500 to EUR 4000 gross / month depending on qualifications and experience.
6. Remove Obstacles
A long application form is tiring - especially if the candidate is on the road. Let candidates know they can ask clarifying questions by phone or chat. Do not demand a cover letter for hard-to-fill positions.