Market Analyst (start up environment)
Are you an experienced market analyst and is this your checklist?work for a company that helps make the world greenwork in a start up environmentwork in a hybrid environmentwork in a 100% International settingPlease apply and see how you can help build up this great company.
Are you an experienced market analyst and is this your checklist?
work for a company that helps make the world green
work in a start up environment
work in a hybrid environment
work in a 100% International setting
Please apply and see how you can help build up this great company.
As Market Analyst you will be part of the Marketing & Data department. You are responsible for the business modelling of the market and build scenario's for our network roll-out and products and services roll-out. Also you are responsible for modelling the business cases for commercial contracts and the business case for our products and services. You know where to find the right market data, how reliable these data are and how to translate these in benefits for our business. You will create a deep understanding of our data-models and translate these into for the financial model.
You'll work closely together with the finance department to translate business models and scenarios into the financial models..
Together with our data scientists, analysts and marketers you will make sure the data we use for our business modelling is accurate, reliable, continuously updated and improved. You are really the "number crunching brain" behind all the market and business data. The difference between you and the data scientist is that you use your data for market and business development, whereas the data scientists focus on the data that is needed for our product development.
Since we are an exciting new start-up, not all responsibilities have been defined yet, meaning you have the opportunity to help us shape your position further.
This is a challenging role, ideally suited to someone with at least 2 to 3 years of experience, that brings a sophisticated understanding and experience of financial models and business development.
You love to work with data every day again. Others would see you as a data nerd/ data cruncher/ data master.
You master building mathematical models in such a way, that other people can also understand the model and work with it. In case of building non-excel models, you are able to explain how it works and help other to use with the model.
Setting up business cases is a piece of cake for you.
You have a background in mathematics or econometrics.
If you have worked for an investment company before, that's a big plus.
You are eager to understand the market of electric trucking and master it together with the rest of the Customer and Market department.
You like to work in a team as well as you're able to work independently.
Your English is excellent (and if you do not speak, Dutch that is fine).
You look forward to learning new things and pick them up quickly, this includes -new skills, environments, people skills and are resilient.
Base salary level (all in) is oriented towards 70.000 EUR; on target annual incentive is 20% - with a maximum of 40%.
We offer the opportunity to join us at the unique starting phase of a new company with a real purpose, high aspirations and strong team spirit. You can be there where it all began.
A high energy environment which you can help to shape in various aspects, where you learn every day and where there is ample room for personal development and support.
We want you to join our company for a career – not for just a job – and support your personal career ambitions in or outside your department.
Apply for this job
Does this job fit your talents and seem right for you? Don't hesitate to apply online now.
Facts about the job
Company
Independent Recruiters
Contact person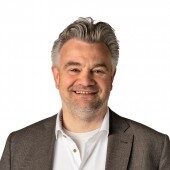 Olfertjan Niemeijer
Managing Director