Today, Helen is celebrating her 2nd work anniversary in Talentor China. She took an interview to share her experience and feeling about how to transform from a young consultant to a team leader.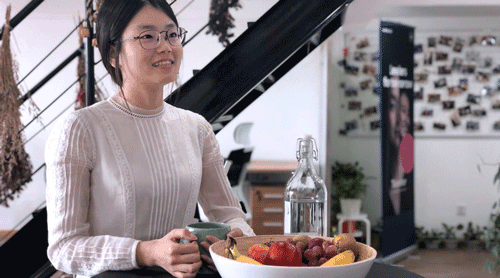 Helen, what do you think about the past 2 years in Talentor China? How do you see Talentor in your eyes?
Helen: "I feel time flies and I have experienced a fascinating fast development. During the past 2 years, together with my colleagues, we have built a much bigger network of candidates and clients. This absolutely exceeded my initial expectation. Talentor is a great platform for our team members in China, it gives us a bigger picture of international business and also creates a lot of fun from intercultural experience."
Talentor is an amazing international family for me. I can see we're very diversified in both cultures and practices. Here we could work with both large MNCs and SMEs in niche market segments.
"We can always get support from our global partners for cross country assignments. Back to Talentor China, we combine both western management style and local startup entrepreneurial spirit. We encourage everyone to try new ideas and new roles. I believe that's the reason why we call ourselves New-generation Consultants."
You became Head of Operations recently. What does it mean to you as a Team Leader? Do you feel more pressure? What advice would you give to the new researchers in your team?
Helen: "I'm very honored to get this promotion. Becoming a team leader means more responsibilities and challenges. For sure I feel more pressure, but it can also motivate me to improve myself much faster. I need to think and act differently from before and need to be a role model for others. I know there's still a lot to learn, but I'm ready for any challenge ahead."
"I wish those new colleagues could grow faster than me. They should be prepared both mentally and physically for this journey. It's not easy for everyone. But with persistence, curiosity, willingness to learn, I'm sure they will find their way. The best thing with our China team is that everyone is willing to share experience and support each other. Michael is a great coach. More and more we see our team as a learning organization, which is the reason why everyone feels great after joining us."
As a young consultant born in 90s, how do you communicate with candidates who are more experienced and older than you?
Helen: "It's our daily work to approach very experienced candidates, who are mostly older than me. I need to prepare myself very well in terms of industry background and project information already before starting the first contact. I also try to share my insights and market information to our candidates so that they can also learn something new. It's all about mutual benefit and respect. I feel lucky that so far most of candidates I have met are professional and are open to communicate equally. I don't really see age is an issue at my work."
What do you enjoy most from your current job and what do you expect for the future?
Helen: "What I enjoy most is to help our clients to find suitable candidates and also help our candidates to find a better career opportunity. After a successful placement, I can feel the sincere appreciation from both the hiring manager and the employed person. There's nothing to compare with it."
"For the future, I hope more and more customers and people could recognize our value in the talent recruitment area. I also want to see my team become bigger and stronger so that we could accomplish more tasks."