Challenges and perspectives of HR in 2023
More than 230 participants* from 41 countries attended the live Webinar themed "Ready for tomorrow: Talent Strategies for 2023." We covered a wide range of best practices on our worldwide panel, including those pertaining to HR-Strategies 2023, Recruiting, Retention Management, NewWork, Diversity, and Remuneration. For you to read over again, we've summarized the most important findings.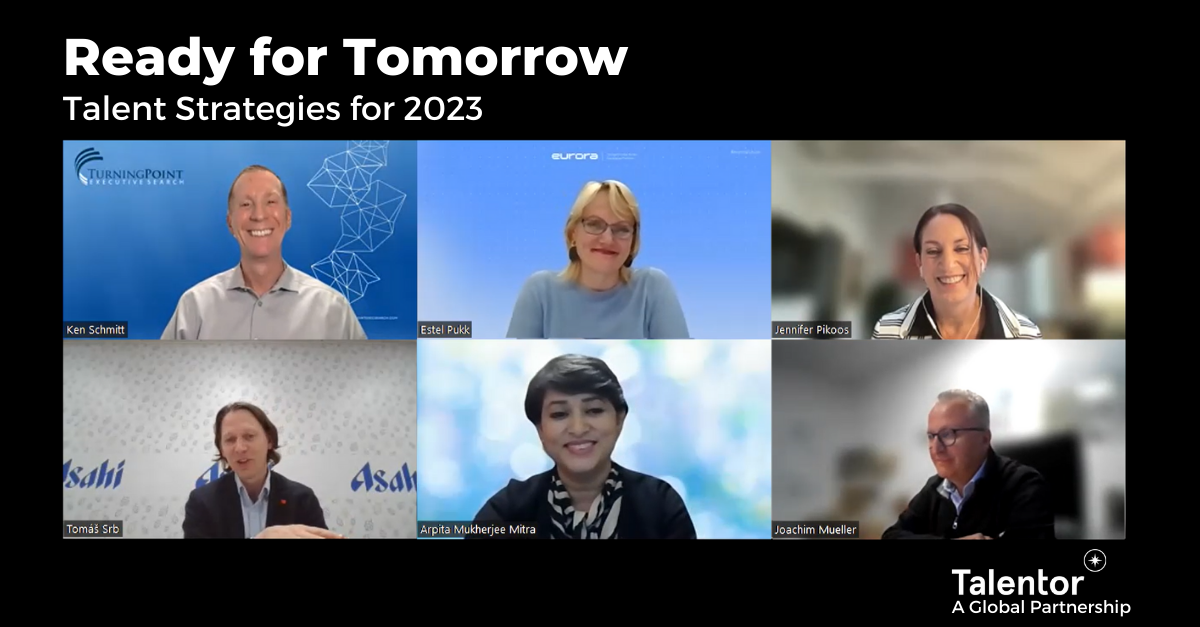 We asked the 230+ attendees from 41 different countries for their thoughts on today's top talent challenges. The the results show the most challenging issue in HR right now being recruitment followed by compensation levels.
We specially thank Ken Schmitt, CEO of TurningPoint Executive Search (Talentor USA), who moderated the panel discussion. The following key takeaways can be drawn from the global discussion. The global discussion yielded the following main takeaways.

Tomáš Srb, Head of HR Europe and International at Asahi, food and beverage industry, Czech Republic highlighted that it is helpful to build recruitment on a strong brand.
"We also partner with universities to hire talent at an early stage of career. A referral program is a must. Regular performance reviews are needed but the human element is of key importance."
Moreover, he mentioned that there is a shift in the principles – performance reviews should not be an HR process but a business process.
"We are still figuring it out what the best team structure should be. We can offer flexibility to employees who work in the office but brewers cannot work from home."
Ken Schmitt, CEO of TurningPoint Executive Search (Talentor USA)
mentioned the challenging job market in the US which results in having so many unfilled job vacancies that for the first time in a long time companies hire people from other industries. Companies also more readily hire juniors. It can be seen that Millennials and Generation Z are not afraid of asking where they can go next, what their career is going to be like.

Discussing the topic of working remotely Ken Schmitt explained "Remote work is not possible in certain positions, but flexibility can still be discussed. E.g., employees can be allowed to come later on Monday or leave earlier on Friday. Remote work also has its challenges. It is easier for leaders to give constructive feedback and keep their team engaged if they see body language and have eye contact."


In emphasizing the value of diversity, it was stated that there are mores and more questions from candidates about the makeup of the team – age, gender, religion, etc. If all team members are very similar, then there is not enough diversity of thought and not enough innovation.

Jennifer Pikoos, Director, Human Resources, Diversity, Inclusion and General Affair, Kia America: "After the pandemic there are more job openings than there were at the beginning of 2020. In KIA we have hired also outside our industry. It is easier to do it if very specific skills are not required. People are also coming from other states and other countries."
Mentioning this example it showed that in recent years the need for proper succession planning has increased and a formalized plan was created. KIA managers act as career coaches and discuss goals and career perspectives with employees. Working from home is allowed in KIA but managers are reminded to check regularly how their team members are doing. Isolation is a big issue that needs to be avoided.

The more it is dealt with diversity, the wider net can be casted in the recruitment process. "We cannot say that black lives matter if we are not able to demonstrate how we support it."
Estel Pukk, Director of people and culture, Eurora, a start-up offering cross-border compliance services, Estonia said that they strongly support the system of referrals.
"Two years ago our first 10 employees brought the next 25 employees. Flexibility is also of high importance to hire globally fast. We cannot be heavily regulated internally. We offer independent professional career counselling because managers do not discuss topics outside their scope. This kind of counseling indicates 6 months or even up to 2 years in advance if someone is going to leave. And some people also come back after a few years thanks to the good counselling experience."
Instead of using the word "succession," the phrase "substitution" is chosen since it makes the matter sound more like a leadership issue. People in leading positions must consider who will take the place of their team members. Leaders may neglect succession, but they do not overlook the budget, thus it is built into the budget.
This summer, when discussing the company's basic principles with its employees, Diversity-capable was proposed because Estonia's population of working age is rapidly declining, necessitating a reconsideration of how those in their fifties and sixties are handled.

Joachim Müller, Head of HR, Hubner Group, Germany: "Recently it has been more difficult to hire. The recruitment process has to be fast, otherwise we lose the best candidates. Candidates also expect the flexibility to work from home. We cannot always expect to find candidates who match the profile 100%. "
Investments are made to support further internal development after candidates' personalities, attitudes, and capacity for learning have been assessed. Prior to a requirement for a successor, key jobs for succession planning are identified. Planning for succession covers more than just management levels and encompasses several company sectors.

"We believe that hybrid work mode is the best. We have 20 employees and 15 work places in the HR team. This enables us not only to save office space but also encourage our people to communicate to organize their work. Employees need time for communication and collaboration and also for working alone."

Arpita Mukherjee Mitra, Myanmar, Country Director DKSH:
"Six years ago, we started succession planning. Mission-critical positions were identified, primarily at the managerial level but also at other levels. We are allowed to work from home two days a week in our office in Myanmar. Because of internet or electrical issues, some people may not wish to work from home. Remote work is not allowed for warehouse staff.
DKSH has a wide range of employees. People of various ages and nationalities are present. Women make up more than half of the workforce."
What will be the most important role of HR next year?

Estel: Facilitating change and growth.

Tomáš: Recruitment. Apart from keeping the lights on, also strategic work, being an advisor, a leader of tribe for certain changes. Also building skills, our today's knowledge will not be enough.

Jennifer: Keeping the lights on is critical. Additionally, HR will also be expected to act as a strategic advisor who understands the business. Change management is crucial.

Joachim: Will have to manage change and transformation successfully.

Ken: A thought partner.

Arpita: Transformation management. Ability to talk business, to understand numbers.


We thank the panelists and our moderator for sharing their experiences with our international audience. Learning about the differences and similarities among various regions of the world was incredibly fascinating.
Find the full panel discussion here: Panel Discussion