The Positive Leader: Tips and Inspiration for Leaders for Tomorrow
by
Andy Andrews
in
Events
— June 2018
"Every once in a while, you meet a leader who is truly magnetic," begins Katerina Vollmann, Managing Consultant CEE / DACH for Talentor Austria. "Once I met Jan Mühlfeit, I knew I had to have him speak for the Talentor community!" She thus planted the seed for an exciting event.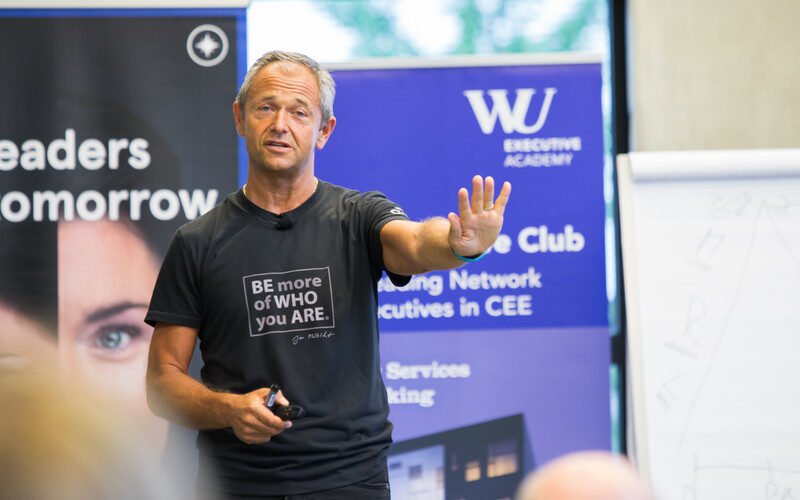 Encouraging Talents Young and Old
Together with the WU Executive Academy and BMW, Talentor Austria was indeed able to win over Jan Mühlfeit for a presentation in Vienna in June. How did the event come to pass?

Katerina met Jan Mühlfeit at an international conference and rekindled the contact at a seminar together with her young daughter. It's no wonder that several of Katerina's colleagues were especially touched by Jan's approach to cultivating talent in children.

"Jan Mühlfeit's presentation was very inspiring and thought-provoking. His approach to encouraging 'hidden talent' in children was especially fascinating for me as a mother of two."
Michael Sarsteiner, CEO of Talentor, adds, "Jan didn't paint the most positive picture about today's educational system: '2 things haven't changed in the last 150 years: schools and graveyards.' Disturbing the natural flow of kids while they are learning is one of the biggest issue in our todays learning society."
A Contrarian Approach to Time Management
Jan spoke at length on a topic dear to the hearts of leaders: time management. According to him, you cannot manage time, because everyone has exactly the same number of minutes in a day. Rather, you manage your energy. Working in your weak areas saps energy. When you work in your area of strength, you get into a flow state.

Staying in your flow state is especially important because when you climb high on the ladder of success, a deep fall can be just around the corner.
As Michael puts it, "Jan Mühfeit gave us intimate insights into his personal experience of becoming a leader, managing people, and finding out that something went wrong: he had lost his focus on the important things in life. Jan shared a very painful situation with the audience to help them see that finding the right balance is for challenging almost every manager."
Katerina adds, "Jan explained how a positive leader works with the strengths of their team members and serves additionally as a role model. External motivation is not sufficient for staying in a flow state over the long term. It takes inspiration to bring the flow state into a whole team."

A Stirring Personal Story
Katerina also picks up on Jan's openness about his personal struggles as something particularly unusual. "Jan was on top of the world as the only person from a CEE country to work personally with Bill Gates. Then from one day to the next he was very deeply depressed, was in rehabilitation, and completely restarted his career. You rarely see the courage to tell a deeply personal story like that.

Perhaps it was this courage that the guests found so inspiring.

Success Worth Repeating
The event was perhaps summed up best by one of the guests:
"It was an interesting evening with a diverse range of guests and an impressive and fascinating speaker. Jan filled me with enthusiasm with his presentation on vision and leadership."
Would you be interested in attending such thought-provoking events in the future? Please get in touch with Katerina Vollmann at Talentor Austria to make sure you are on the exclusive invitation list.