Join us on an Exciting Journey Through the Live Talentor Partner Meeting in Basel, Switzerland!
This year's partner meeting location Basel kept on surprising us…
Did you know that the city is located on 2 country borders and has borders with Germany and France? You can choose at the airport to exit to France or to Switzerland. We only found out at the airport 😊
Did you know that the city has only 170,000 inhabitants and is home to the largest pharma giants Roche and Novartis? It's a buzzing, global and vibrant city. Rated as #4 city among expats who love to live there.
Did you know that locals love to swim in the Rhein River in summer and carry all their cloths in plastic bags that look like ducks?
Our partners Coopers also kept on surprising us…with wonderful goodie bags, an office that felt like a magic castle and hipster get away for their amazing team, a hidden event location in their office garden and lovely dinner spots.
No wonder that some of our Talentor partners extended their stay and toured to waterfalls, to Luzern and Zurich as well to explore the best kept places in the country.
So, let's take a time travel back to our Talentor partner meeting with around 46 Talentor members and partners from all around the world who gathered in this surprising city.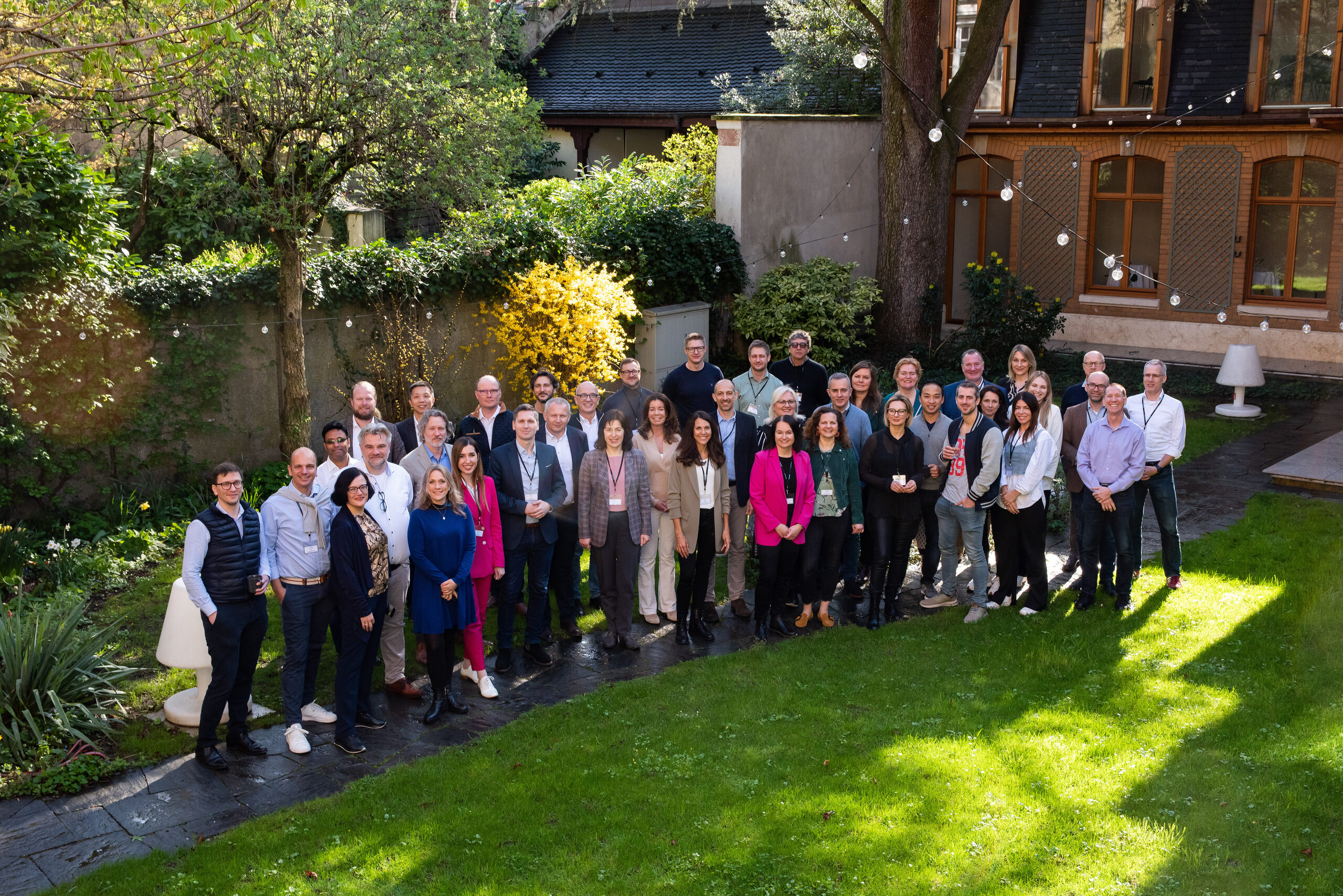 Basel started with a spark of creativity and boosting our team spirit
We started with a warm welcome, a review of the agenda, and a special thanks to everyone who literally traveled around the globe to meet everyone in person. This meeting was especially a highlight for all of us welcoming Michael Wang, our Talentor partner in China, again to the group! This was the first Talentor meeting in person for him again after Covid…Michael had been the first partner being impacted by the pandemic and he kept on inspiring all of us with his great resilience and fresh ideas during the last years.
Next up was the Spaghetti Challenge, which was sure to be a fun and engaging activity that tested everyone's teamwork skills. Even with the use of ChatGPT, googeling the challenge and a heavy load of cheating…the winner was the most creative team finding dozens of options to build the tallest tower!
Following the challenge, new Talentor partners were presented. Popcorn Recruiters from Bosnia & Serbia, Croatia, and Slovenia, as well as Simplelogic from Poland, joined the Talentor family.
''My region is a black box of data. This is why I've loved to give a deep market insight into Bosnia and share facts as that we have around 400,000 German speaking people in our region. Sourcing and connecting talent with the world is our big passion at Popcorn Recruiters''. Benjamin Kadic – very passionate founder, marketer and recruiter and new Talentor partner in Sarajevo.
''Poland is home to the most talented IT specialists of the world. To connect those talents with the world, is Simplelogic's reason to join Talentor.'' Blazej & Marcin from Simplelogic in Warsaw.
After a break, it was time for every partner to give a short status update on their highlights from 2022 and their goals for 2023. This was a great opportunity to learn from each other and share experiences.
Here are a couple of highlight statements of our partners from more than 20 countries:
Cathrin Eggers, Bridging Neighbours, Talentor Germany Düsseldorf: We're a fast growing start up team in Düsseldorf. With Talentor we feel we have colleagues in all parts of the world. I can't describe how special this is for our team spirit, and this group really inspired us from day 1.
Barbara Hansen, Country Deputy Manager, Talentor CZ: Coopers inspired us so much in the last partner meeting in Vienna when we heard about Recruiting Process Outsourcing. We've started our RPO business unit, and developed the business fast & with so many ideas!
For the first time in Talentor's history, two countries, Norway & Sweden, join forces! Hearing their mutual growth plans was very inspiring to all of us.
Day one's focus shifted to the next generation of recruiting. Mario Koplmüller led a discussion on how to handle it, covering topics such as standardization versus individualization in recruiting, trends for 2023, and the importance of a digital-first and candidate-centric process. The conversation also included the use of data and artificial intelligence in recruiting. New tools as Jasper or Poised had been very new discoveries for many of us! Mario's keynote certainly inspired many of us to look into the endless opportunities of using AI in our industry in much more depth.
''The challenge of today and the future is: How to connect technology & empathy in our industry? The more you know, the more you grow'' Mario Koplmüller – Head of Digitalization & Growth at epunkt – Austria's market leader in recruiting.
Coopers are role models in living a long-term strategy
It was time for a keynote speech from Christian Biedermann on Coopers' strategy within the last years. Partners learned how a small company could grow into a mid-size company in executive search and recruiting, as well as the challenges and learnings that came with that growth. This insight was valuable for any small company looking to scale their business.
''Culture is the core of your business success. Hiring the right people is the key for all you do – a wrong hire can destroy a culture that you've cultivated for years in just a few weeks'' – Christian Biedermann, Founder of Coopers.
In the evening, there was an optional sightseeing tour of Basel for those who were interested. We've felt like tourists while working. Dinner, chats about life, travels and true connection time combined with steak are the moments that grow most opportunities.
FRIDAY GEMS
Let's take all learnings & insights into our real businesses…
We've split into groups for practice workshops on the three pillars of their strategy: vision, people, and resources. Partners shared their ideas and exchanged thoughts with each other. The goal was to prepare information on the three main topics for a successful strategy and present the results to the audience.
Friday was all about boosting our cross-border activities and learning about the latest developments in our group. We've been conducting in depth interviews with C-level executives around the world and first results of the global study were presented.
Denise Stuker, Founder of Coopers, gave us all insights into Cooper's branding strategy. ''In good company'' is their golden thread for all they do…
''Branding is what everyone shares about you when you all travel back home'', and we all were really delighted by the team spirit & dedication that the entire Coopers team spread. Thank you so much for your hospitality – we want to come back and work in your marvelous office soon!
We've all left with new insights, ideas, and a strengthened network of peers. The Talentor Partner Meeting in Basel was a great success, and everyone was looking forward to meeting each other again in Amsterdam in autumn!