Introducing our new partner Popcorn Recruiters in Bosnia and Herzegovina
We are thrilled to welcome Popcorn Recruiters as a new partner in Bosnia and Herzegovina. Get to know our new partner in this interview with CEO and founder Benjamin Kadić.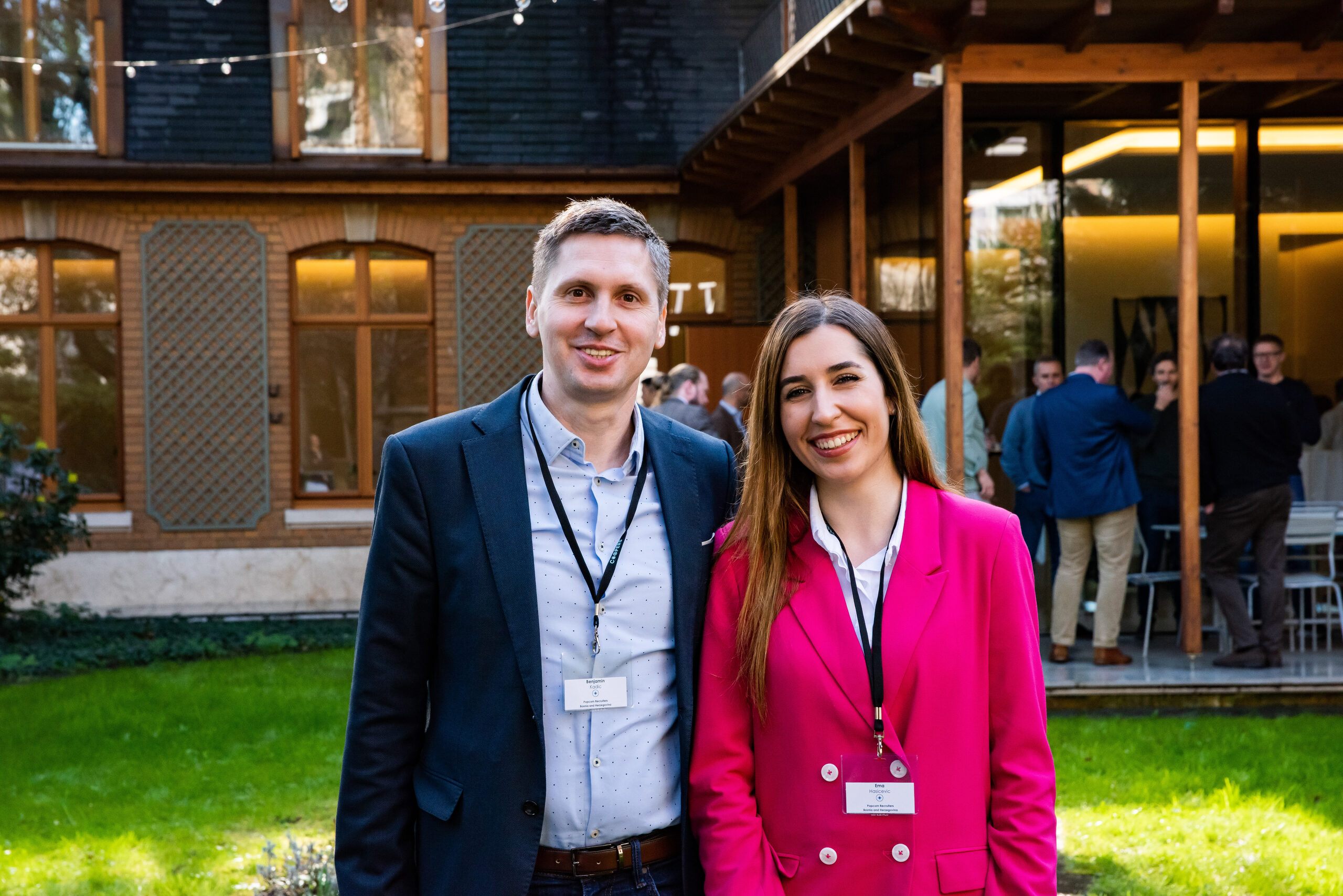 Benjamin Kadic and Ema Hasicevic at the Talentor International Partner Meeting 2023
What is your company´s USP for clients and candidates?
Our expertise in the acquisition of IT and BPO profiles across Europe, personalized service, agile and data-driven sourcing approach, extensive network, and innovative strategies ensure that we can provide you with top-tier candidates quickly and efficiently.
We provide a unique and personalized approach to job placement for candidates. With an extensive network of reputable organizations in various industries, we can connect candidates with exciting career opportunities that align with their career aspirations. The team of passionate recruiters is committed to understanding the needs and goals of each candidate to ensure a perfect match with potential employers. With Popcorn Recruiters, candidates can expect a seamless and efficient job search process that leads to their dream job.
What is a typical profile that you recruit?
We strive to identify candidates who align with our client's company culture and values, ensuring a good cultural fit for the organization.
Our approach to recruitment is personalized and tailored to each client's unique requirements. Usually, we work with a broad range of profiles to find the best fit for each client's unique needs, delivering high-quality candidates that meet and exceed their expectations.
We typically recruit for the most common positions from a range of fields, including:
IT industry - with diverse tech backgrounds and stacks, such as web, software, mobile development, Big Data, ML, AI, Cloud, DevOps, and Cybersecurity profiles.
Business Process Outsourcing (BPO) industry - professionals from BPO and shared service centers with backgrounds in Management, HR, Finance, Project Management, Digital Transformation Specialist, Multilingual Customer/Client Support, Technical, Deskside, and Helpdesk specialist roles.
Who is a typical client for you?
Popcorn Recruiters collaborate with reputable organizations across multiple industries, catering to startups and established enterprise companies alike. Our typical clients are organizations seeking assistance in hiring top talent for job openings across Europe. We offer various staffing models such as on-site, relocating to a specific location, or remote support, ensuring flexibility to our clients.
What led you to found your company?
After gaining almost 15 years of experience, including 10 years in the recruitment industry, I felt that it was time to turn my passion for working with people into a company. I wanted to create a company that would be the result of successful and unsuccessful practices of managing companies that I have encountered while working in and for a large number of organizations.
My primary instinct was based on the fact that the Balkans, including Bosnia and Herzegovina, inevitably become a secondary outsourcing location after the appetites of Western Europe have outgrown the capacities of Eastern Europe. With my experience in developing recruitment skills and forming recruitment teams, I recognized that it was time for a similar specialized agency to be recognized in the early stages of creating the outsourcing industry as a reliable and expert partner for establishing and growing outsourcing companies in the Balkans.
Besides the market potential and embracing the movement of nearshore opportunities, my personal motive was based on building a culture and environment in which people can feel respected, valued, and encouraged to support companies during their establishment, scale, or transformation while supporting the individuals during their first career opportunities, growth and pursuit for happiness.
What is one thing you would recommend to companies that not just want to recruit great talents, but also retain them?
My recommendation to companies that want to recruit and retain great talent is to prioritize the creation of positive and supportive work culture. This involves providing career growth and development opportunities, offering competitive compensation and benefits packages, promoting life-work balance, and encouraging open communication and feedback between employees and management. It's important to establish an environment where employees feel valued, appreciated, and motivated to perform their best work.
Leaders must remember that they are the reflection of the company culture and that every move they make sets an example. If core values are not promoted, practiced, and valued from the top down, it's challenging to expect employees to embrace the ideas of equality, respect, and growth. Therefore, it's crucial for leaders to lead by example and consistently promote a positive work culture that reflects the company's values.
What are the biggest learnings from your career?
Throughout my career, I have had the privilege of working in various industries, companies, and positions. These experiences have allowed me to build confidence, develop people skills, and expand my professional network. However, the most valuable lessons I have learned in terms of professional and personal growth have come from unexpected sources and personas, but also failures and difficult circumstances.
In fact, my decision to start a recruitment business was based on negative experiences and practices I had witnessed in the industry. I saw first-hand sthe consequences of companies that did not invest in company culture, employer branding, personal development, or fostering a positive work environment.
If I were to summarize my key learnings, I would say that having a supportive partner in your personal life and a network of friends and family can help you overcome any obstacles and keep you grounded, remain humble and be grateful for the accomplishments you achieve through your business venture.
What advice would you give your younger self or any young person when starting their career?
Beginning to work early, even while in school, can prepare you for the competitive job market filled with well-educated, talented, and ambitious young professionals you'll be competing against. Developing key success factors like willpower, curiosity, eagerness, tenacity, and even a sense of defiance toward obstacles can help you shape the career path you desire. Exploring and learning from role models in your field during the early stages of your career can also guide you toward becoming the best version of yourself.
You have spent your entire career in recruitment and executive search. What is your favorite thing about this industry?
One of the biggest advantages is the opportunity to help people find meaningful work and to help companies find the talent they need to succeed while helping candidates to peruse and achieve their career and personal goals. This is incredibly rewarding and fulfilling even for passionate salespeople like myself.
Recruitment is also a dynamic and fast-paced industry that is constantly evolving. This means that there are always new challenges and opportunities to tackle, which can keep the work interesting and engaging. Additionally, recruitment covers a wide range of industries and job functions, which allows you to work with a diverse range of clients/professionals and gain knowledge and expertise across multiple sectors and positions.
Recruitment also offers the opportunity for career growth and advancement. As you develop your skills and expertise, there are opportunities to take on more senior roles and to take on more responsibility within the organization. This can lead to higher compensation, greater job satisfaction, and a sense of accomplishment.

What surprises foreign companies the most when they are recruiting specialists in the Bosnia & Herzegovina?
In my experience, foreign companies have a limited understanding of the resourcing potential in this region due to a lack of available statistics and potential misperception and bias based on our recent history. Bosnia and Herzegovina might not be the most mature business services market in the region, but in terms of untapped potential, it's a European heavyweight. What makes Bosnia and Herzegovina stand out is its available pool of highly qualified, multilingual, and culturally savvy talent that's readily available to complement any global delivery team. Many multinationals are already reaping the benefits, having seamlessly integrated local multilingual talent into their value chains. The country continues to over-produce qualified candidates, including accountants, graphic designers, customer support, HR administrators, and legal professionals. Many local talents have highly transferable skills and are happy to consider other sectors. They value working for foreign companies, and work involving serving international customers is highly sought-after on the local market.
What are the most frequent intercultural problems? What's the biggest cultural misunderstanding that you've seen?
I can tell you that Bosnia and Herzegovina, like any country, has its own unique cultural norms, rich diverse cultural heritage and practices that may be different from those of other countries. As a result, visitors or outsiders may encounter cultural misunderstandings or differences that can be challenging to navigate.
Despite its proximity to European cultural and business centers, our region maintains traditional values and places great importance on family, hospitality and religious customs, which may come as a surprise to those unfamiliar with our history, including both Westerners and Easterners who may not be accustomed to our European mindset.
What is something that a foreign company would never guess about your country's labor market?
Initially that we continue to produce highly qualified, multilingual individuals who have highly transferable skills and are not reluctant to consider working in different sectors. The youth segment is a particularly compelling aspect of this country. Not only are young people well-educated and capable, but they are also enthusiastic about working for foreign companies and serving international customers. The IT workforce is educated and skilled comes with a European mindset and culture, and is low-cost and affordable compared to the rest of its IT counterparts on the remainder of the continent. Language proficiency in English, German, and Scandinavian languages is high.
Why did you decide to join the Talentor network?
Considering our European presence and the experience we have gained, we have come to realize that joining an international network such as Talentor is a logical progression for us. It allows us to showcase the potential of our region and provide support to international companies seeking to explore this market as their next resourcing location.
Overall, joining the Talentor network can provide numerous benefits for executive search and talent management professionals, including access to a global network, exchange of knowledge and best practices, brand recognition, greater efficiency, and a shared values and culture.
What do you think is great about being part of Talentor International?
Being part of a global network like Talentor can increase brand recognition and credibility for members, as they can leverage the reputation of the network to attract clients and candidates. The Talentor network provides members with a range of tools and resources that can help streamline their operations and improve efficiency, including access to shared databases and technology platforms. Lastly, Talentor members share a common set of values and cultures, which can help build strong relationships and trust among members and foster a sense of belonging to a community of like-minded professionals.
Do you have other hobbies or things you enjoy doing with your family that you would like to share?
As someone who strongly advocates for life-work balance, I believe that it's important to prioritize our personal lives over work. By doing so, we can find more fulfilment and purpose in our work, which ultimately benefits both our personal and professional lives.
One of my top priorities is spending time with family while traveling, especially when living in and surrounded by the beautiful nature of Bosnia and Herzegovina. Weekends and vacations are usually spent exploring the surrounding mountains, lakes, rivers, and nature parks. Additionally, my passion for football began at an early age and resulted in a semi-professional career. Nowadays, I enjoy playing recreational games with friends on a weekly basis and also tend to attend the most interesting matches across Europe.
Tell a little bit about yourself,…?
I find that my professional and personal life are not always necessarily intertwined. Even though I am a business owner of three companies and several franchises, I still maintain the mindset of an employee and colleague who is passionate and curious about his work. In the interparental aspect, I am constantly striving to develop new ventures, meet new people, and acquire new skills which will make me more relatable to my clients, colleagues and industry.
On the other hand, I tend to simplify my private life while being a devoted parent, supportive family member, and caring friend who values spending quality time with loved ones.