Talentor Expands to the United Kingdom
Talentor is jumping into the dynamic hidden champion in the British economy with a fast-growing partner. Get to know Denholm Associates in this conversation with Director Douglas Cross.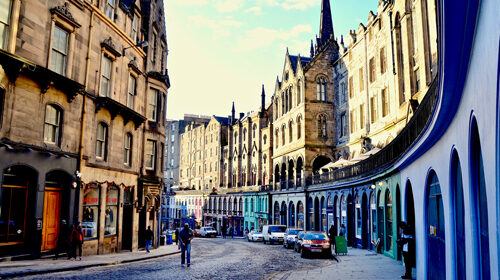 How did Denholm come to add executive search to its services?
Our clients requested it! We've been increasingly asked to work on several senior, board level appointments because of our track record and innovative digital marketing approach to search & selection.
What are typical profiles and clients for you?
Our focus is on senior management and director-level profiles. We operate across all industry sectors but have a particularly strong relationship with a number of high-profile luxury spirits brands and fintech companies.
What do most outsiders get wrong about Scotland?
When people think about Great Britain, they often think London is the only game in town. Scotland is rapidly becoming a major player, with an increase in foreign direct investment and a growing digital & life sciences sector.
We have a high proportion of fast growth business in tech sectors such as games development, fintech, digital agencies as well as one of the biggest financial services sectors in Europe outside London. Our food & drink sector has a huge number of growing businesses and delivers over £17 billion to the Scottish economy. We have such a good digital talent pool in addition to an internationally experienced pool of sales and marketing candidates in the FMCG sector.

How is Brexit effecting the business climate?
In a word, it isn't. Foreign direct investment in the UK as a whole is decreasing; by contrast, there is a continued run of success for Scotland, with foreign direct investment up by 7% on 2017.
What have I got to do when I visit Edinburgh?
Visit the castle and the old town. Make sure to visit some of the many small local pubs and bars outside of the city centre where you can experience our hospitality, music and a glass of whisky. They are real hidden gems! What I love about Edinburgh is that everything is in such easy reach of our beautiful city. The west coast and island, skiing, and the mountains in the north are all within 2-3 hours away. The rest of Europe is also just a short trip away.
Why did you decide to join the Talentor network?
When we were contacted by Talentor we realised we have a very similar approach.
We have replaced out-of-date industry practices with an agile and innovative approach to support the growth plans of our clients.
We are already seeing the benefits of the alliance and are working with some of Talentor's clients in Europe. From a strategic point of view, we also believe this is a timely move as we look ahead to Brexit and talent shortages on the domestic front. The news has been well-received by our local media, too.

Denholm Associates
Denholm is an international Executive Search, Recruitment and Employer Branding consultancy specialising in marketing, sales and commercial appointments. Headquartered in Scotland, they have established a global client base of both corporate and SME businesses and an unbeatable network of contacts, within Scotland, across the UK and internationally. Their team of 15 people work in two offices in Edinburgh and Glasgow. Denholm recruiters do things differently, by combining marketing principles with the recruitment process to bring economy, efficiency and importantly much needed transparency to the search process.
Find out more here: Talentor UK